Preconditioning-induced ischemic tolerance: a window into endogenous gearing for cerebroprotection
Experimental & Translational Stroke Medicine
2010
2:2
Received: 6 July 2009
Accepted: 21 January 2010
Published: 21 January 2010
Abstract
Ischemic tolerance defines transient resistance to lethal ischemia gained by a prior sublethal noxious stimulus (i.e., preconditioning). This adaptive response is thought to be an evolutionarily conserved defense mechanism, observed in a wide variety of species. Preconditioning confers ischemic tolerance if not in all, in most organ systems, including the heart, kidney, liver, and small intestine. Since the first landmark experimental demonstration of ischemic tolerance in the gerbil brain in early 1990's, basic scientific knowledge on the mechanisms of cerebral ischemic tolerance increased substantially. Various noxious stimuli can precondition the brain, presumably through a common mechanism, genomic reprogramming. Ischemic tolerance occurs in two temporally distinct windows. Early tolerance can be achieved within minutes, but wanes also rapidly, within hours. Delayed tolerance develops in hours and lasts for days. The main mechanism involved in early tolerance is adaptation of membrane receptors, whereas gene activation with subsequent de novo protein synthesis dominates delayed tolerance. Ischemic preconditioning is associated with robust cerebroprotection in animals. In humans, transient ischemic attacks may be the clinical correlate of preconditioning leading to ischemic tolerance. Mimicking the mechanisms of this unique endogenous protection process is therefore a potential strategy for stroke prevention. Perhaps new remedies for stroke are very close, right in our cells.
Keywords
KATP ChannelGlobal IschemiaFocal IschemiaIschemic ToleranceTransient Focal Ischemia
Review
Surviving a sublethal noxious insult may result in a more powerful state against a following lethal insult, referring to Nietszche; "What doesn't kill you, makes you stronger." This phenomenon named as preconditioning (PC) and tolerance has been shown to exist in many organs, most extensively in the heart. The first in vivo evidence of preconditioning and tolerance in brain was provided in 1960's [1, 2], but almost three decades passed without any interest from researchers on this unique phenomenon, until Kitagawa et al. opened the research era of cerebral ischemic tolerance (IT) [3].
The ability to withstand, respond to, and to cope with ongoing stress is a fundamental property of all living organisms [
4
]. The fate of the brain tissue after focal cerebral ischemia is determined by the degree and duration of ischemia, and even without preconditioning, resident brain cells naturally respond to brain ischemia by mobilizing a host of defences and counter responses to mitigate cell injury and death [
5
]. If the subthreshold noxious stimulus is too mild or negligibly mild, it may not induce any response, whereas if it is sufficient enough, it may serve as a PC trigger, or if it is too severe, over the threshold, may permanently injure tissues. The hallmark of PC stimulus is not being injurious. In the scenario of IT, PC stimulus primes the brain for subsequent injurious ischemic injury. Danger signal evoked in the brain by the stressing preconditioning stimulus induces complex endogenous protective mechanisms resulting to a latent protective phenotype. When the lethal ischemic insult is applied onto this latent protective phenotype, a separate set of responses are triggered that constitute ischemia-tolerant phenotype, which strikingly differs from the unprimed or unpreconditioned brain's phenotype (Figure
1
). Therefore, the outcome of the brain cells is shifted by PC from death to survival.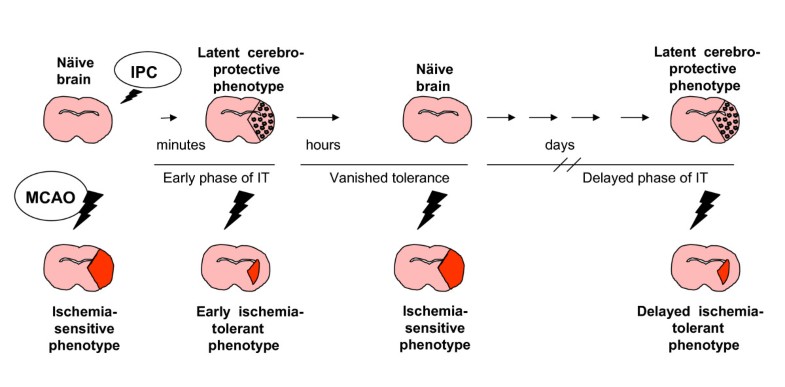 During the last years, the mechanisms underlying cerebral IT were intensely studied, and although incomplete, a vast amount of knowledge has been accumulated. The salient features of cerebral IT are presented in Table
1
. There are two temporally distinct windows of protection from ischemia afforded by PC. Early protection, i.e., early IT, has been observed in relatively fewer studies than those exposing late IT in the brain. Exploring the functional relevance of these findings has proved difficult, however.
Table 1
Main futures of cerebral ischemic tolerance
| General | Preconditioning specific |
| --- | --- |
|    • Robust cerebroprotection |    • Two phased: early and delayed |
|    • The interval between preconditioning and ischemia determines the fate |    • Early tolerance starts in minutes, delayed tolerance not usually before 24 h |
|    • Ischemic tolerance is transient |    • After early phase, but before delayed phase no tolerance is achieved |
|    • Ischemic tolerance can be induced by a variety of stimuli |    • Early phase is short-lasting, delayed phase longer, up to 1 week |
|    • Transient ischemic attacks confer ischemic tolerance in humans |    • Preconditioning preserves cortical/penumbral tissue in focal ischemia models |
In this review article, we first attempted to clarify the IT nomenclature. Various triggers induce cerebral IT; these are mentioned in a separate section discussing the models for IT. This variety among preconditioning triggers indicates that the downstream signaling pathways converge on some common fundamental mechanisms [5], major mechanisms are discussed briefly. A number of tools serve for examination of the efficacy of PC, chief methods are exampled. Lastly, we addressed the challenging issues of IT to encourage further research.
I. Nomenclature
The nomenclature used in the studies addressing the IT phenomenon is not entirely consistent. In this article, in order to keep with consistency while defining the methodology of the IT experiments and to provide ease for reading, the following terms will be used according to the definitions given:
PC
The stimulus or the method applied in an experiment that triggers IT in the brain.
Ischemic preconditioning (IPC)
Method of PC by inducing either global or focal transient cerebral ischemia. When the PC stimulus is different than ischemia, PC will be named according to the nature of the trigger (e.g., hypoxic-PC, anesthetic-PC, chemical-PC). In the literature, sublethal or priming ischemia have been used as alternative terms to IPC. For subsequent ischemic insult given after PC, the term test ischemia is often used [6, 7], among others (final, lethal, reference, or full ischemia). We will prefer to name the subsequent ischemic event as final ischemia.
IT
Briefly, the protection from final ischemia provided by prior PC refers to as IT. Depending on the media used to study the phenomenon of IT, IT may refer to the cell, tissue, or organ's post-ischemic state wherein, due to previous PC exposure, the response to ischemia is different from one observed without previous PC. In this article therefore, PC and IT define two different (but related) entities and are not used interchangeably.
Ischemia-tolerant phenotype (Figure 1)
It is the consequence of both pre- and post-ischemic protective responses induced by PC [5]; in other words, it is the resulting phenotype from both PC and final ischemia.
Latent cerebroprotective phenotype
It determines the status of the cell, tissue, or organ exposed to PC that experiences changes triggered by PC, and it occurs before the application of final ischemia [5]. Hence, the latent cerebroprotective phenotype differs from the ischemia-tolerant phenotype by the lack of exposure to final ischemia (Figure 1).
Cerebroprotection or protection
With the better understanding of the concept of neurovascular unit (i.e., the contribution of glial and vascular endothelial cells and their interactions with neurons in physiological and pathological conditions), researchers' attention shifted from neurons towards cerebrum. Hence, instead of "neuroprotection", we prefer to use "cerebroprotection", which covers not only neurons but all the cerebral cell populations experiencing IT. To interpret IT afforded on single cell type (hippocampal CA1 neurons in global ischemic models or type of cell slice used in vitro study), the protective effect provided by PC will be discussed as "protection".
II. Two phases of IT
Preconditioning induces two phases of IT with different temporal profiles and, to some extent, with different mechanisms of protection: early and delayed IT (Figure 1); the latter plays the major role in the brain. Early IT is a short-lasting protection induced within minutes of exposure to PC and wanes within hours. In this process, rapid changes in activity and posttranslational modifications of existing proteins are involved, whereas delayed IT requires gene induction and de novo protein synthesis, that represent a long-term response through genetic reprogramming [4]. If the final ischemia is induced during the unprotected window, which exists between early and late IT (usually 30 min-1 hour after PC, lasting up to 24 hours), no tolerance occurs (Figure 1).
In the literature, early IT has been termed as the first window of protection [8], rapid IT [5], immediate IT [9], short-term protection [8], classical IT [10], or acute IT [4]. We will prefer to use early IT [10]. Alternative terms for delayed IT are: second window of protection (a term widely used in heart IT studies), classical IT [5], and late IT [11].
III. Models for IT
Study setups for investigating potential phenotypes induced by PC are exampled in Figure
2
. A summary of the available rodent models of IT is included in the following link as Additional File
1
.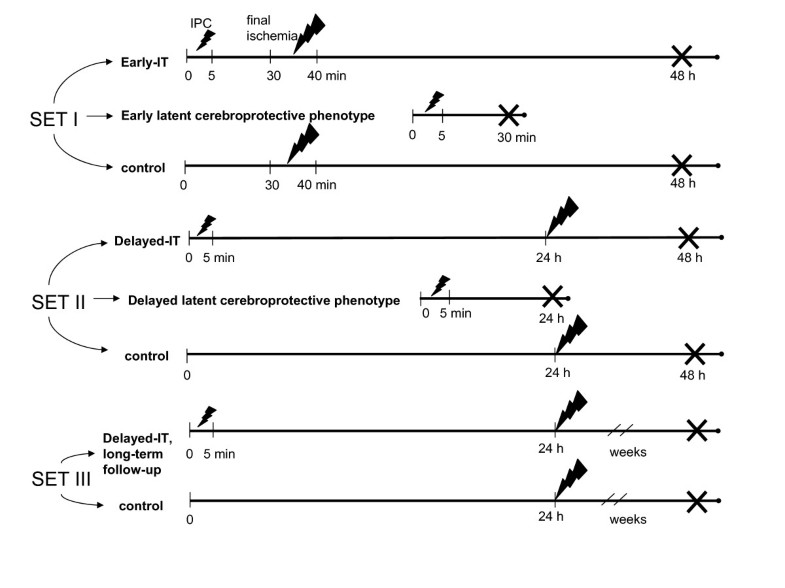 Global-Global
Animal models of global cerebral ischemia are designed to mimic cardiac arrest in humans. Global-global IT models include different durations of transient global ischemia as PC and final insult.
Focal-Focal
Transient focal-permanent focal
Transient occlusion of the middle cerebral artery (MCA) by intraluminal insertion of a nylon monofilament, which was originally described by Koizumi et al. [36] and modified by others [37], is the most common model to induce focal cerebral ischemia in rats [38–41] and also available in mice [42–45]. This method was introduced first time in a rat IT experiment, applying 10 min of transient MCA occlusion (tMCAO) as the PC stimulus and permanent MCAO as the final ischemia [46]. Authors evaluated IT phenomenon with several reperfusion periods between IPC and final ischemia and showed that ischemic lesions involving both cortex and basal ganglia could be reduced when final ischemia was applied 1, 2, and 7 days after PC, but not 2, 6, and 12 hours or 14 and 21 days after PC. This model was applied successfully by others to obtain delayed IT [47, 48]. Repeated brief transient ischemia regimen was also proved as a preconditioning paradigm inducing early IT in mice subjected to permanent focal ischemia [49, 50].
Transient focal-transient focal
One [51, 52] or 3 times of 10 min transient focal cerebral ischemia protects from subsequent 120 min of tMCAO in rats [53–55]. Shorter durations (2 and 3 min) of tMCAO were severe enough to induce delayed IT, but did not provide early IT to transient ischemia [56, 57]. Transient focal-focal IT paradigm induced IT also in mice and spontaneously hypertensive rats [58, 59]. A recent mouse model of delayed-IT involves 2 periods of 5-min tMCAO as the PC method, against 90-min tMCAO applied in 3 days, but not in 2 or 4 days [6].
Cross-Tolerance
Cross-tolerance is tolerance to ischemia provided by miscellaneous noxious stimuli, rather than ischemia. These differ greatly in nature, nevertheless, because of a common reason (most likely by inducing genetic reprogramming), all furnish IT. Examples of cross-tolerance in the scenario of transient focal cerebral ischemia are provided in Table
2
.
Table 2
Amount of histological protection afforded by preconditioning in selected studies of focal cerebral ischemia
| | Protection* (%) | Follow-up** | Ref. |
| --- | --- | --- | --- |
| Focal-focal, in rats | | | |
| 15 min MCAO - 72 h later pMCAO | 41 | 24 h | [47] |
| 10 min MCAO - 72 h later 60 min tMCAO | 44 | 7 d | [59] |
| 3 min tMCAO - 72 h later 60 min tMCAO | 35 | 24 h | [57] |
| Focal-focal, in mice | | | |
| 3 × 5 min tMCAO - 30 min later pMCAO | 23 | 24 h | [50] |
| 3 × 5 min tMCAO - 30 min later 60 min tMCAO | 32 | 24 h | [49] |
| 15 min MCAO - 72 h later 45 min tMCAO | 70 | 24 h | [58] |
| LPS | | | |
| LPS 0.5 mg/kg - 72 h later 60 min tMCAO in rats | 35 | 24 h | [98] |
| Hypoxia | | | |
| 11% oxygen for 2 h - 48 h later 90 min tMCAO in mice | 46-64 | 24 h | [66] |
| Anestesia | | | |
| Isoflurane 1.4% for 3 h - 0, 12, and 24 h later pMCAO in rats | 31-35 | 4 d | [113] |
| Halothane 1.2% for 3 h - 24 h later pMCAO in rats | 35 | 4 d | [113] |
| Spreading depression | | | |
| KCl application - 4 days later 120 min tMCAO in rats | 43 | 4 d | [191] |
| Hyperbaric oxygen | | | |
| 100% oxygen for 1 h, 5 days-24 h later pMCAO in mice | 27 | 24 h | [69] |
IV. Methods for detecting IT
In most of the IT studies, the ischemia-tolerant phenotype is addressed with assessments performed after the final ischemia; however, to expose the molecular substrates of latent cerebroprotective phenotype, the tissues should be collected after PC (Figure 2). Studies, which used the latter approach, have been recently reviewed [137]. To increase the relevance to the human condition, IT models should include both histological and functional evaluations. However, these imply more challenges for IT researchers [138], because not always a correlation between these two outcome parameters is present [30].
V. Mechanisms of IT
IT is achieved by the attenuation of broad categories of injury-inducing mechanisms, including excitotoxicity, ion and pH imbalance, oxidative and nitrosative stress, metabolic dysfunction, inflammation, and apoptotic cell death. Additionally, innate survival mechanisms and enhanced endogenous repair mechanisms are involved [5]. Preservation of energy metabolism and mitochondrial functions during the ischemic event is improved [167, 168]. Our knowledge on the underlying mechanisms of cerebral IT is yet patchy. Additionally, different mechanisms may dominate different models. Here, we will review only the major molecular aspects contributing to delayed cerebral IT. The mechanisms of early IT will be discussed separately at the end of this section. Readers seeking for more comprehensive information should consult the recent excellent review of Obrenovitch [169] as well as its antecedents [9, 133, 167].
VI. Open Issues and Challenging Features of IT
Several specific questions arise by an overview of past IT experiments. The nature of the PC stimulus and the duration of the interval between PC and final ischemia are among the main parameters that may affect the results. The strain and gender of the experimental animal are additional sources of variability, as we are familiar from stroke experiments. Therefore, findings of an experimental IT study should be interpreted considering the following issues.
VII. Clinical Aspects
To date, a body of evidence, which supports the hypothesis that TIAs may confer IT in humans, exists. In a retrospective study, preceding TIA was found to be associated with less-severe stroke on admission and improved outcome on follow-up, compared to stroke patients without preceding TIA [232]. Another retrospective case-control study, found no evidence of PC by TIA in baseline neurological scores, but favorable outcome was associated with the presence of TIA [233]. This study presented "potentially preconditioning" TIA characteristics as: 0-7 day interval between TIA and stroke, 2 or 3 times repeated TIA, and TIA with <20 min duration. Moncayo et al. reported a cohort of 65 patients with acute anterior circulation stroke, among whom those with previous TIAs (lasting less than 20 minutes), had a more favorable outcome than those without [234]. Apparently, duration of TIA should be taken into account while evaluating whether IT exists in humans or not [235]. An MRI study provided the tissue evidence for TIA-induced tolerance to ischemic stroke [236]. Ischemic lesions tended to be smaller on the baseline images and final infarct volumes were smaller in stroke patients with prior TIA than in those without.
Although these findings strongly suggest TIA as the clinical correlate of IPC, other explanations for milder strokes after preceding TIA must be considered. In these patients, a carotid disease with slowly progressing stenosis, which improves collateral circulation may predominate [237]. Another point is that, patients with cardioembolic stoke have lower incidence of TIA than those with atherosclerotic vascular disease, and probably because of larger-sized emboli they sustain larger infarcts and poorer outcome [238].
Several clinical conditions may benefit from strategies using principles of ischemic tolerance, as discussed elegantly by Dirnagl et al. in a recent review article on cerebral IT [239]. Mediators of IT could be used as biochemical markers of IT in stroke patients. Castillo et al. tested this hypothesis by evaluating blood levels of TNF-α and IL-6 in acute stroke patients with or without prior ipsilateral TIA [240]. Better outcome was found in patients with TIA, who showed high plasma concentrations of TNF-α and low concentrations of IL-6. Hence, authors proposed the index of TNF-α/IL-6 as a marker of IT phenomenon in humans.
Conclusions
Experimental IT paradigms investigate the endogenous pathways by which the brain might protect itself from ischemia when geared with an appropriate stimulus. Attempts to elucidate the mechanisms underlying cerebral IT are increasing exponentially, but diversity of models, including PC stimuli, hardens interpretation of the data. In addition, narrow safety margin of PC may prove a limiting factor of the therapeutic utility of PC in clinics. On the other hand, accumulating clinical data suggest that IT might be a clinically relevant phenomenon. Several approaches, including ICP [241], remote-PC by limb ischemia [88], pharmacological-PC with nitroglycerine [242], and anesthetic-PC [115], are tested in clinical trials to protect the heart from cardiovascular interventions with high risk of cardiac ischemic event. Results are promising and give hope that clinical trials of PC to protect brain in situations with a high risk of ischemia can be designed, once PC is proven safe.
Abbreviations
3-NPA:

3-nitropropionic acid
GABA:

γ-amino butyric acid
HIF-1:

hypoxia-inducible factor-1
IL-1:

interleukin-1
IT:

ischemic tolerance
IPC:

ischemic preconditioning
KATP :

ATP-sensitive K+
LPS:

lipopolysaccharide
MCA:

middle cerebral artery
MCAO:

middle cerebral artery occlusion
MRI:

magnetic resonance imaging
NO:

nitric oxide
nNOS:

neuronal NO synthase
iNOS:

inducible NOS
eNOS:

endothelial NOS
NF-KB:

nuclear factor KB
OGD:

oxygen-glucose deprivation
PC:

preconditioning
PKC:

protein kinase C
TIA:

transient ischemic attack
TNF-α:

tumor necrosis factor-α
tMCA:

transient MCAO.
Declarations
Acknowledgements
This work was supported in part by the Helsinki University Central Hospital and the Finnish Academy of Sciences.
Authors' Affiliations
(1)
Department of Neurology, Helsinki University Central Hospital, Helsinki, Finland
Copyright
© Durukan and Tatlisumak; licensee BioMed Central Ltd. 2010
This article is published under license to BioMed Central Ltd. This is an Open Access article distributed under the terms of the Creative Commons Attribution License (http://creativecommons.org/licenses/by/2.0), which permits unrestricted use, distribution, and reproduction in any medium, provided the original work is properly cited.